From cobblestones to all-terrain cranes
Fast approaching 100 years old, the Wicks family business has helped build motorways and carry out emergency bushfire repairs, but it once hammered out steel bands for horse-drawn carriage wheels.
The Grafton blacksmith did brisk trade when it was established in Queen Street in 1927 and, while the roads are faster and the projects larger these days, Wicks and Parker is still helmed by two Wicks brothers, Anthony and Martin. 
Co-director, Anthony, manages the steel side of the business and his brother, Martin, oversees equipment.
"I loved what my dad and uncle did as a kid, but my dad wanted me to go out and do other things," Anthony recalls. A plumbing apprenticeship followed and he and his brother eventually took over the business in 2014.
It's been a long chain of learning, and some of the staff their father brought on stayed well into their tenure.  Seeing them through to retirement is an "opportunity and a privilege".
While people are at its heart, an awareness that their offerings must move with the times has kept the business dynamic.
The development of Clarence Correctional Centre and the Pacific Highway created steady demand for their skills and the brothers responded by bringing on staff and equipment.
"Helping each other is a big part of recovering from the losses"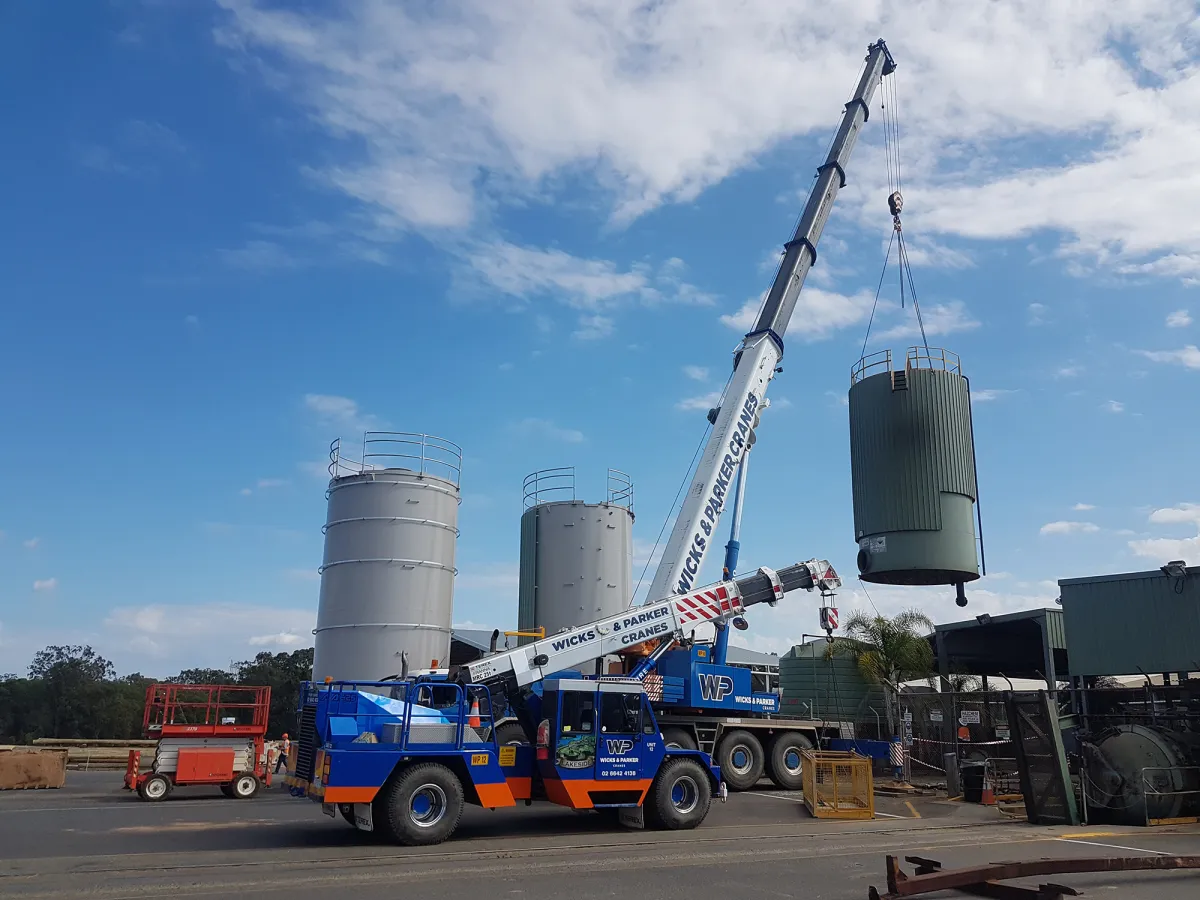 Bigger works meant bigger cranes, with a 130-tonne all terrain crane opening up new project opportunities. The brothers purchased a South Grafton steel fabrication business and a crane business in Lismore which was badly hit by the 2022 floods. They also own a metal fabrication site in Maclean.
Services now include crane hire, haulage, concrete pumping, retail, engineering and manufacturing divisions. They have gone from employing just eight people to a staff of 60, with a fleet of 12 cranes. It's a lot to pack into eight years.
Natural disasters have done their fair share to add to the tally, with both fires and floods urgently mobilising the Wicks and Parker team. That included working with Essential Energy to replace burnt out timber power poles after bushfires ravaged the Nymboida area in 2019, and the "overwhelming" sight of smouldering paddocks is not an image Anthony will soon forget.
Since the 2022 floods, they have been focused on moving hundreds of temporary housing pods in Lismore and across the region, doing all they can to speedily and safely rehouse as many flood-affected residents as possible. In that number are even some Wicks staff, who have wanted to stay working and as involved in the rebuild as possible.
"It's helping each other and helping the community as much as it is the situation they are going through as well," explains Anthony. "Keeping your mind set on something is a big part of getting through it. Helping each other is a big part of recovering from the losses."
In their sights is a focus on Australian manufacturing and a larger factory. And, while succession plans are a long way off, Martin has two young children who may one day help to keep the business in the family – and the region – for at least another 100 years.