Nurtured by nature
Did you know the average Australian spends less time outdoors than an inmate within a high security prison?
It's a statistic that not only terrifies Tim Jack Adams, founder of GreenX7, but also propels him to his vital work of connecting people with themselves, with each other and with nature for everyday wellness.
For the past 10 years GreenX7 has been running workshops and retreats internationally and in the Tweed for clients as diverse as McDonald's, Deloitte, Six Senses, and the Australian Defence Force, to inspire both individuals and teams to tap into the healing power of nature. His work is grounded in the science behind actively engaging in the natural world, termed 'green exercise,' that continues to show that it makes people both healthier and happier.
The business, based in Kingscliff, has the natural beauty of Tweed as its playground.
"We might hold a board meeting in an outdoor session on the water, or amongst the rainforest," Tim says. "This opens up creativity and trust beyond four walls and a long table of suits and has a profound impact on the day, improving creativity, connection and culture."
The name "GreenX7" is based on seven tools that combine components of Eastern and Western philosophies for a holistic approach to living a happier, healthier life and they weave through every part of the business. These include movement, breath, and what's called 'earthing' – the commonplace but taken-for-granted act of simply walking barefoot on the earth, whether that's sand, grass or the forest floor.
His latest venture is a downloadable app called GreenX7, and is an endeavour in rethinking how we measure, share and improve our wellbeing. 
The app measures wellbeing within 60 seconds and people receive tailored activities and suggestions based on how they like to recharge. These can be shared with friends or other connections.
Wellness and tech might not obviously go together, but Tim is making the most of it. "You have to meet people where they're at to get them where they need to be… It's an amazing opportunity to scale and measure wellbeing." His ultimate goal is for the GreenX7 app to be used so widely that it measures the collective wellbeing of all Australians, and be a springboard to improve health and wellbeing nationwide.
"Nature has the ability to quieten the mind and open the heart"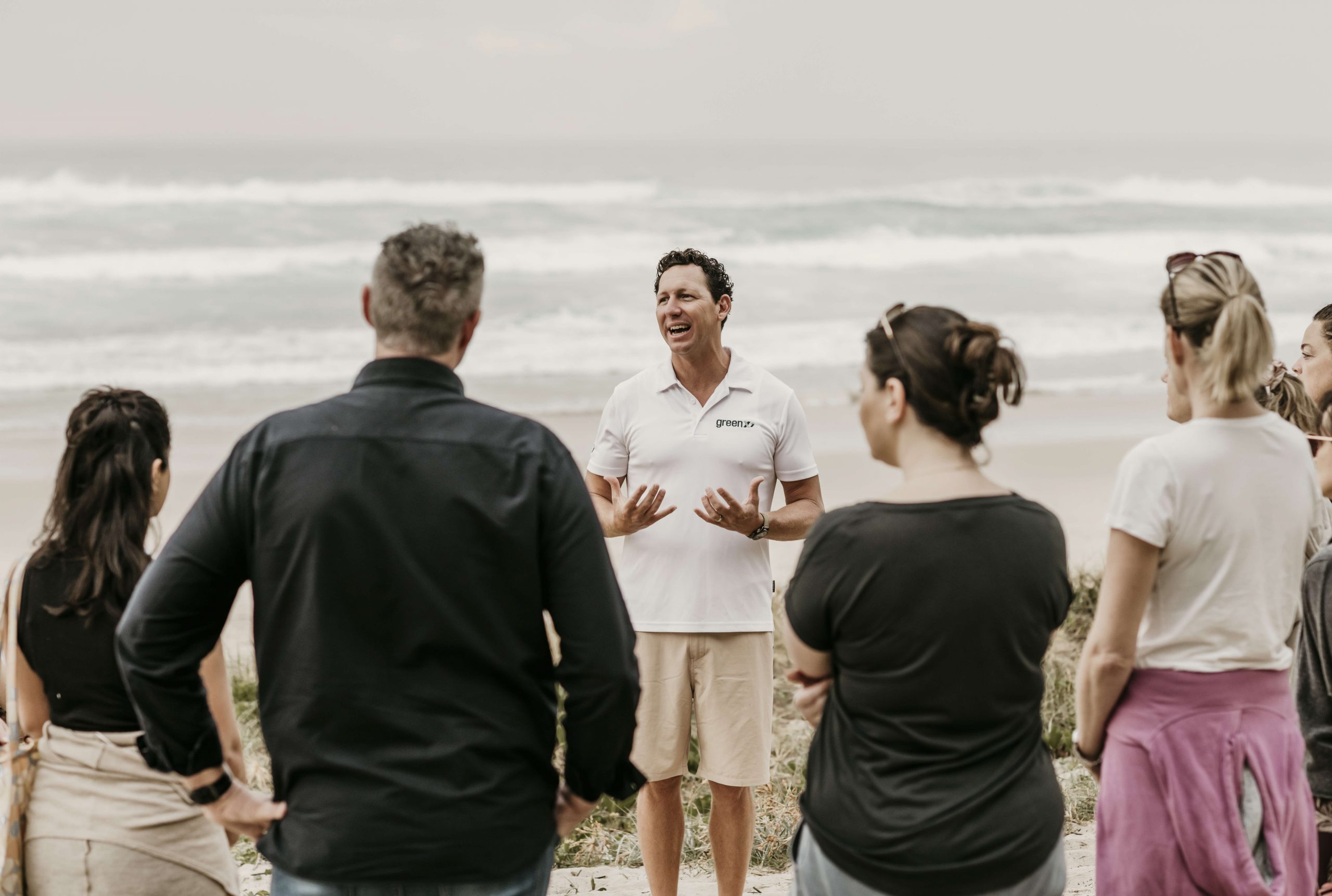 For now, he has integrated the app as part of his keynote speeches and workshops.
"We send out a link before a keynote or workshop and receive a snapshot of the wellbeing and resilience of the organisation – which we call a wellness pulse check. From there we curate information based on exactly what that team needs to thrive sustainably," Tim says.
"For an employee it brings awareness to the areas of their life they need to focus on and how to improve, and for the organisation, a breakdown on what they can do to enhance productivity, resilience and connection within their workplace. We have come to understand that workplace wellbeing is only as strong as the collective battery."
This is the deeper challenge at the core of Tim's work that nature helps draw from his participants.
"Sometimes what people really need and want for themselves and others is different to what they think they need. Nature has the ability to quieten the mind and open the heart."
This work has a huge impact on people and it is the high inspiration behind word of mouth that has brought the business its success. GreenX7 also has esteemed advisory board members who donate their time and expertise to the business because they've taken part in the programs and share Tim's passion and goals for transforming health outcomes for Australians.
Tim's "big audacious hairy goal" is to facilitate 'Green Prescriptions' that prioritise preventative methods (nature and connection-based) before medical and pharmaceutical ones. He says the Australian health system is spending billions every year to address depression, obesity and loneliness, and yet these are still fast-growing epidemics.
GreenX7 has partnerships with Southern Cross University and not-for-profit healthcare initiative, Healthy North Coast. Together they're working to create a model aimed at GPs and allied health practitioners that would urge the uptake of activity in the form of community events, and support wellness tourism opportunities, to improve the mental, social and physical wellbeing of participants. Ideally, these events would be funded by the government just like a remedial massage or counselling session.
Tim says it's about returning to the foundations of true holistic health.
"Hippocrates said 'The greatest medicine of all is teaching people how not to need it'. Yet today, our health system is more focused on prescribing than preventing. As a community and a nation our aim should be supporting a 'prevention before prescription' lifestyle to reverse the continuing rise of ill-health in Australia."