Brett Harley
22 Marigold Drive, Fairy Hill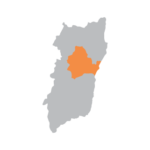 building a good reputation
When the only pub in town burns to the ground, it's a big responsibility being the one chosen to rebuild it. The success of Uki's new Mt Warning Hotel, which opened in 2015, is not only the toast of the town, but has helped Brett Harley see his work in a new light.
"It's an iconic building that will be around for a long time," Brett says. "It was an incredible opportunity for us to be recognised for what we could achieve in both construction and overall development."
Brett has run his building business out of Kyogle since 2002, focused mainly on constructing new houses across the Northern Rivers region. Initially he did this with a business partner, and after his partner's retirement in 2014, Brett renamed the business Brett Harley Building.
The Mt Warning Hotel job came about the same way that all of Brett's jobs come along.
"I don't do any advertising at all," he says. "That job came through local recognition of my work – all of my business is word of mouth,"
The strength of word of mouth is something all new Northern Rivers businesses should be aware of, Brett says. "Remember it's still a relatively small area, so be true to yourself, as both good and bad word spreads fast."
The good word has spread far and wide across the region for Brett Harley Building, with home building and renovations from Coopers Shoot to Eureka, along with a concentration of projects closer to home in Kyogle and Casino.
The business is at full capacity with six carpenters, four apprentices and up to 50 subcontractors on the team. And Brett doesn't plan on growing any larger.
"I can't physically do any more work without a total restructure of the business, and if we did that the business would lose its strength. People like being able to speak to me directly about their projects – it's small enough to know everything that's going on."
Since taking over the business on his own, Brett spends more time working from the desk.
"Building has always been my passion, and these days I'm enjoying the more creative aspects. For about 90 per cent of my projects I do the design right from conception," he says, while he leads his team through to final construction.
"I enjoy that creative aspect, that you can look back on a building with that sense of achievement."