It was time to level the paying field
What do you do next after more than a decade building up a Byron Bay skydiving business to become a national success and then stepping back after listing it on the Australian Stock Exchange?
Well, start one of Australia's most promising fintech banking real-time payments businesses, of course. In 2022, Zepto – with its head office in Byron Bay's Arts and Industry Estate –enabled more than $50billion in payments, raised $25million in private equity, employed its 100th staff member, and had a seat at the table discussing Australia's monetary policy with the Reserve Bank of Australia and Minister for Finance.
The stepping stone between the two businesses, says Zepto co-founder Matt Cheers, is that the four entrepreneurs wanted to solve the challenge they faced when running Skydive Australia. "Cash flow was crippling the business," Matt says.
"Our biggest pain point was receiving payments from [travel and booking] agents. We had about 1300 agents across Australia and the average ticket size they were collecting was $430. One agent could rack up to $100,000 a week in tickets from customers, they would hold onto that money for 90 days." It wasn't uncommon for the business to be owed up to $3million in accounts receivable, while they'd be taking customers on cost intensive skydiving adventures.
"We never solved this problem, even after listing," says Matt. 
Once the business was sold, the four founders (Matt along with Trevor Wistaff, Adrian Kennedy, and Ian Lennie) missed working together. "We'd catch up every month or so at my 'dog box' at Suffolk Park to sink beers and think of ideas," he says.
"In Byron Bay, you've got to be an entrepreneur to live here. That's what Byron is – an exciting place of innovation and really interesting people. We thought, 'What can we do from Byron as the next chapter to keep working together?'" 
So they set out to solve the clunkiness and delays in the manual payments process. The first iteration of the business was called Split Payments, and their first customer in 2017 was the not-for-profit Byron Bay Visitor Centre, with a service that could automate the collection of annual membership fees from their 100 or so local tourism operators.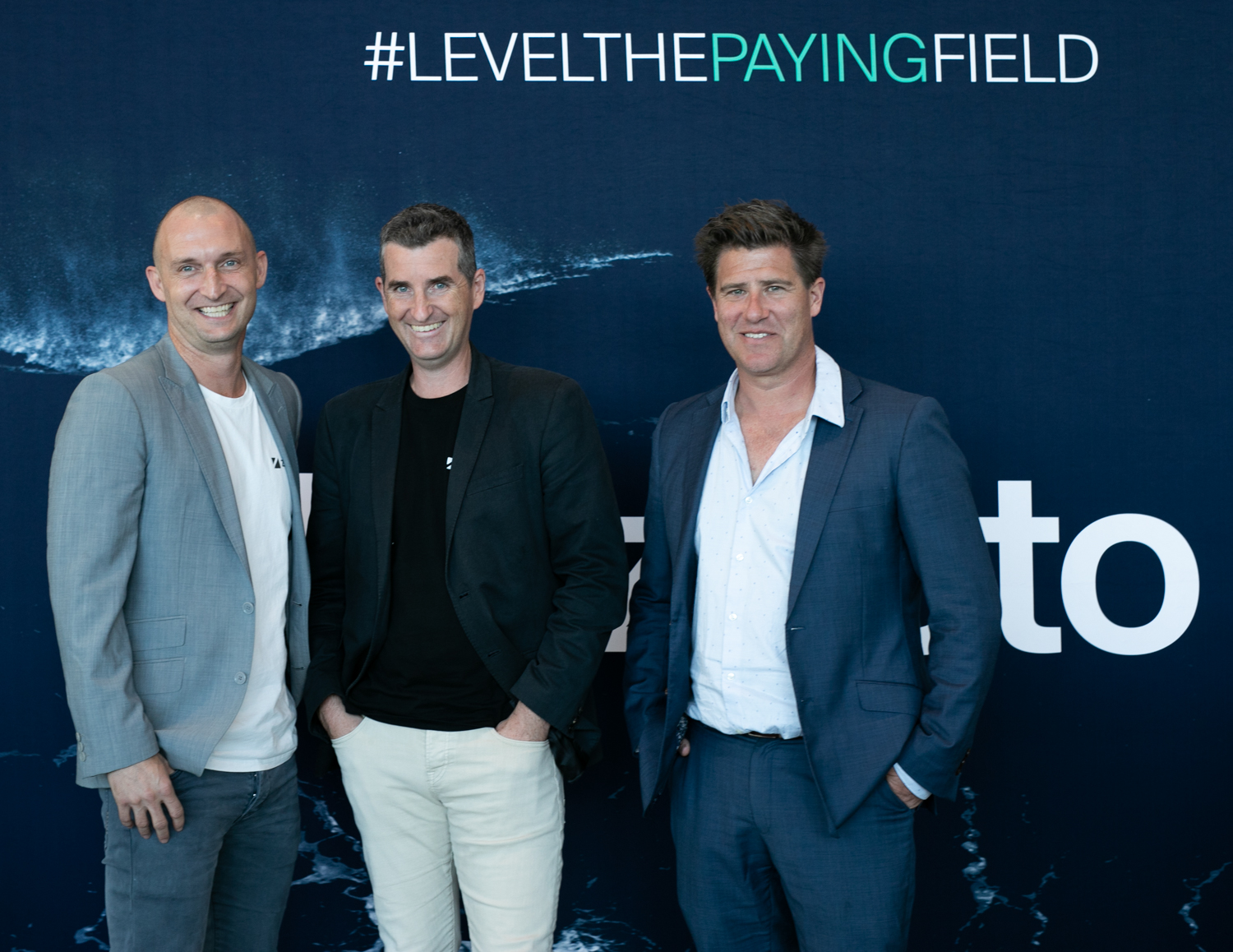 "Previously they'd email the invoice, then chase people to pay, which could take months. We added the ability to authorise payment via the invoice: 'Do you agree that Byron Visitor Centre (through Split Payments) can pull money from your account when it's due?' Once this was set up, every year the membership fees are automatically pulled from bank accounts and they don't have to employ someone to chase invoices." 
It was around this time that Chris Jewell, now Zepto's CEO, joined the team.
Chris had spent his first years living in Byron Shire flying back and forth to Sydney, running an arm of finance multinational, Citibank, before moving to a senior role with Byron tourism group TripADeal. He happened to run into old friend Adrian Kennedy in Bangalow soon after the first COVID lockdown had hit.
Adrian said: "I've been thinking about you, with your banking and finance background, we have this payments technology…"
At that point Split Payments had $50,000 a month in revenue, and Chris could immediately see the potential and was very quickly added as a vital member of the founding team. "I said,' We can go all the way with this. It's not the moon shot, it's the Pluto shot'." The vision was to create best in class payment technology at the highest level.
In September 2021, with Chris by then in place as CEO, the company was renamed and rebranded Zepto, derived from the word "zeptosecond" which means a trillionth of a billionth of a second.
It can be difficult to understand the Zepto technology, as one of its defining features is that it sits at the frontier of what is possible with real-time payments, and that is a fast-moving tech space. Right now that means they use an application programming interface (API), are the first non-bank organisation granted an unrestricted open banking licence, and have direct access to Australia's New Payments Platform (NPP) infrastructure.
At its simplest, it is an "invisible" platform (invisible in that customers don't interact with it for transactions) that enables funds to be transferred directly and instantaneously from one bank account into another. The idea is to replicate the old style of using cash to buy a good or service (in that it's an instantaneous transaction), and differs from credit cards services that charge a percentage fee and have multi-day processing delays in getting payments to merchants. Like many of the most successful technology disrupters, it's effectively taking out the 'middle' process.
Zepto charges its customers – which are primarily giants in the tourism, real estate or utilities sectors – a fee to access the tech platform as well as a small flat-rate fee per transaction.
Matt says the transaction costs for a large multinational business which can be upwards of $15million a year on credit card costs and additional transaction charges, could be easily cut to a fraction of that using Zepto's technology. It also saves money for consumers who are becoming increasingly wary of paying a 1.5% surcharge on top of their coffee, airline tickets, or even larger property transactions.
People who interact with a business that uses Zepto may not know the tech platform is sitting there, but will love the instantaneous way they're able to access money – including for those transferring money into share trading accounts (instant trading rather than waiting days for funds to land), for shift workers who can be paid the moment they clock off even if it's 3am on a weekend, or for those who have an on-the-spot personal loans approved and can immediately access funds (drive home that new car on a Saturday afternoon).
Matt says being based in Byron Bay was initially a hurdle for the entrepreneurs entering the fintech space for the first time, who weren't taken seriously in the city capitals.
"But when COVID hit, it was a massive benefit because we were remote first. We were already set up to have online meetings."
Zepto has since enjoyed a slew of awards, including Best Innovation in Payments in the Annual FinTech Awards and winner of Australian Financial Review's Most Innovative Companies Awards.
More than anything it's the Byron attitude that's helped them lead the way, Matt says. 
"We thought, 'Let's bring the Byron spirit into it – let's think about it completely differently and let's do it our way."
"That's what Byron is – an exciting place of innovation and really interesting people"