Cool to be kind and cans it
The KIND Coffee Co, reflects its name in everything it does.
Co-founder of the Murwillumbah cold coffee brew company, Jules Gardner, says the name made sense. "We wanted to be kind to ourselves (after stepping away from the corporate world), create a kind working environment, with a coffee that's kind to your palate, while being kind to the environment," she says. Jules and her partner (in business and life), Trevor Lynn, have kept this focus through the eight years since business launch. 
During this time, cold brew coffee has grown in reputation in the Australian market. "No-one knew what cold brew was ten years ago, but now there's an awareness that it tastes better than regular coffee." The KIND Coffee Co has its own brand of cold brew products as well as supplying this key ingredient to other companies to help them create anything from yoghurts to cocktails.
The business runs every part of the manufacturing process from its facility in Murwillumbah, from roasting the coffee beans right through to adding their cold brew into ready-to-drink aluminum can at their own custom-built canning line.
This canning facility, which is a first in the Northern Rivers, was launched in July 2022 as a separate business, KIND Beverage Company, and is the culmination of years of research and development. 
"Of everything I've done in my life I love research and development," Jules says. "It's that challenge of constantly trying to fix the problem and make something better."
A giant piece of the early R&D puzzle for Jules was creating products that don't need to be refrigerated: "We saw that as the only way forward from a mass production point of view". Their first large scale distribution prototype five years ago was in recyclable plastic kegs.
It was around this time the business was presented with one of its biggest breaks. Jules got a call from multinational giant spirits group, Pernod Ricard, who were looking for a partner in Australia to help create and supply Kahlua espresso martinis to be served on-tap.
"It was one of those opportunity-meets-preparation moments," Jules says. "Three and a half months later, we'd produced 50 prototypes for them in Melbourne. Pre-COVID we'd rolled out to 300 venues Australia-wide."
This did much more than launch The KIND Coffee Co into its first mass production deal. "It also gave us our brand validity, because when you say we're an ingredient supplier to Pernod Ricard, other customers understand the procedure certificates and testing regimes involved."
"Of everything I've done in my life I love research and development … that challenge of constantly trying to fix the problem and make something better"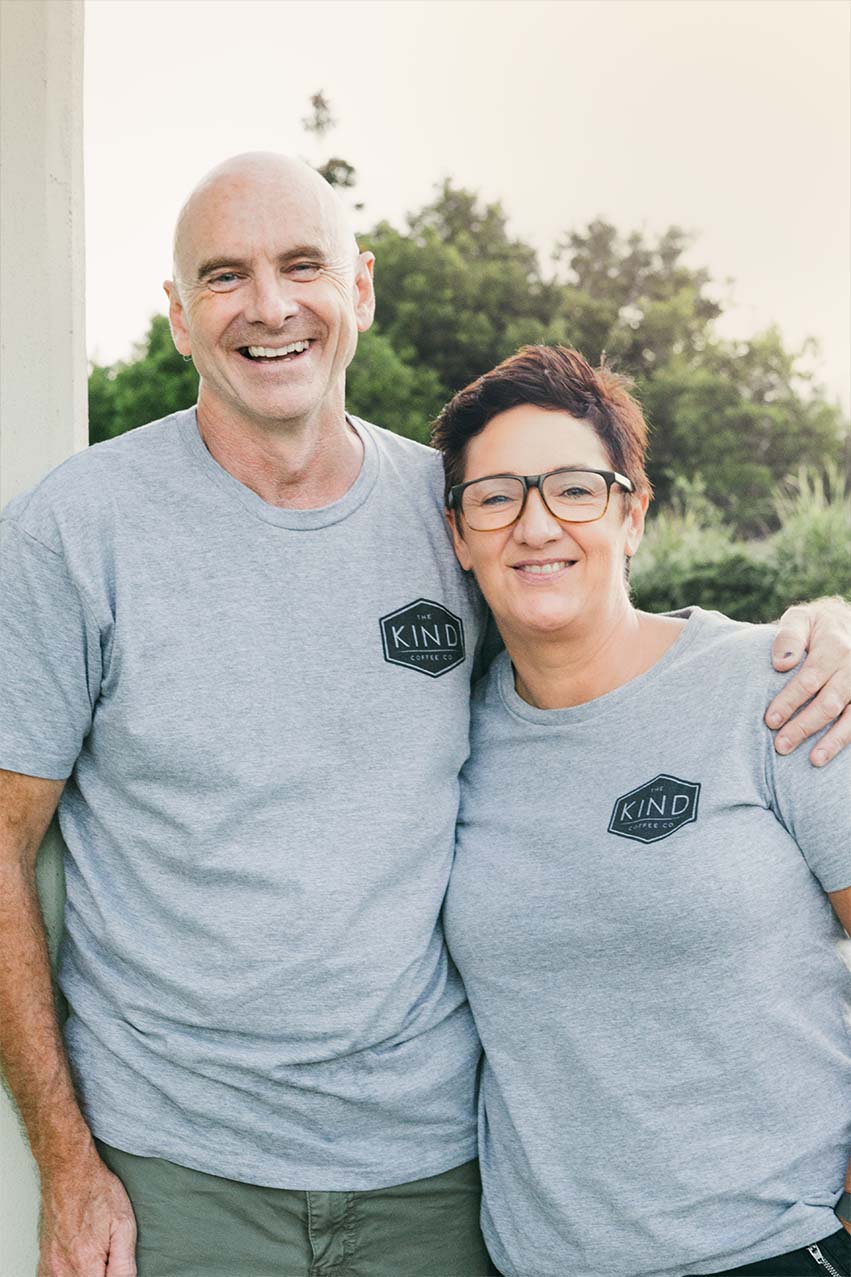 It also inspired Jules' next R&D project. "We thought, 'What if we put it in a can, to sell in bottle shops?' That's what really spurred us down the magic rabbit hole to develop the canning line."
Canning proved to be Jules' greatest challenge and took more than three years to actualise, as she tested various methods for heating and sterilisation that wouldn't impact flavour, and that could be created within a realistic budget.
With dedicated trial and error and amid multiple delays, the pair are excited to now offer Australia's first milk-based ready-to-drink cold brew that's manufactured in Australia from bean to can (competitors manufacture and import their products from Malaysia, Japan and Turkey). This format also has the environmental bonus of aluminum packaging being made from 70% recycled materials. 
Reaching this milestone means Jules and Trevor will now step into a new phase of building the KIND Beverage Co by offering the canning line facilities to other businesses in the region.
"We can now manufacture, can and sterilise, all here in the Northern Rivers. We've been talking to local distilleries in the area to see if they have products they'd like to go into a can and be stocked in bottle shops," she says.
"It's exciting to offer that to both alcoholic and non-alcoholic local businesses."