Evans Head Cabinet Making

11-15 Canberra Rd, Evans Head NSW 2473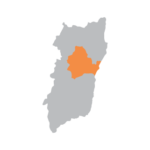 carefully crafted business success
"People often say, 'They don't build things like they used to'," says fine furniture and cabinet maker Justin Crisp. "But I can confidently say, 'I can build it better than they used to' because I've restored a lot of furniture and I know what breaks and what doesn't break, and I know how to make things better."
Justin, who has been running Evans Head Cabinet making for 31 years, travelled the world on a Winston Churchill fellowship in 1996, studying furniture-making at some of the world's most prestigious institutions including the Metropolitan Museum in New York, the Royal Collection in London, and the Louvre in Paris.
While he has always worked from Evans Head, the town where he was born and bred, this international opportunity has opened doors for him for jobs across the country.
"I did 18 months working on a train called the Great South Pacific Express – it was built to look like the Orient Express, with lots of internal marquetry and embellished timber design," he says.
Other jobs have included the interior of an American super yacht Plan B, the chapel at Lismore Base Hospital, and the recording studios at SAE's Byron Bay campus. "I have friends in the cities who are a bit astounded when I've told them some of my past jobs that I've done from here in Evans Head," he says.
Justin runs a 50-50 split between his artisanal fine furniture making and his more practical cabinetmaking at Evans Head Cabinetmaking. It's a studio space he shares with his wife, Vanessa Crisp – who was also awarded a Winston Churchill fellowship to study calligraphy and graphic design overseas – and her business Butterfly Art and Design.
"We bounce ideas off each other in our work," Justin says. The couple are well known locally for running the Paperbark Art Gallery in Evans Head, which they closed three years ago after more than 15 years. "We needed to spend more time on our own work," he says.
Justin says one of the great challenges of running the two arms of his business, is that people who know him for his fine furniture might not think to approach him for his cabinetmaking.
"But the reality is I build kitchens at a competitive rate and the customer has the bonus of having a highly experienced and trained cabinetmaker working for them," says Justin, who enjoys the faster pace of the cabinetmaking jobs.
Whether it's fine furniture or cabinetry, Justin takes great pleasure in his work and the relationships he builds with his customers.
"For me success is loving being at my work place and having customers very happy with the work that I've done for them. I have immense pride in all the jobs created through my workplace."