Kyogle Country Store
142 Summerland Way, Kyogle NSW 2474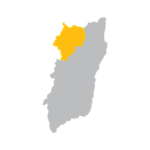 old-fashioned approach reaps rewards
It feels like a brave decision, buying a hardware and rural supplies store in the age of the corporate superstores. Though it was a challenge Pat and Kelli Harley were happy to meet head on when they bought the Kyogle Country Store in August 2016. And they haven't looked back.
"We did a lot of due diligence on the business," says Pat, who has a handy background in the corporate end of rural agriculture supplies, alongside Kelli's skills as an accountant. "We've got a lot of faith in the economy of the Northern Rivers, and particularly in Kyogle – it's not a boom or bust economy – it's very reliable and stable."
Agriculture and forestry are the big business drivers in the area, which are much more stable than the tourism or resources sectors of other areas, Pat says. Both Pat and Kelli know the area well, having grown up in Kyogle, returning after 16 years in Mackay, Yeppoon and then Sydney.
"We also had faith in our ability," Pat says, "and we knew if we could do the little things right, like service our customers really well, and have the right products on hand at the right price, and get really involved in our community, then we were confident the community would support us."
The risk has already paid off, with the business growing more than 40% in less than two years. "This growth is a combination of growing our market share, and also growing the market, by introducing new products, different ways of doing things, and offering higher value and end-to-end products and services," Pat says.
It's also a reflection of the community responding warmly to their approach. "We've been blown away by the support we've been afforded," he says.
The support goes both ways, with Pat and Kelli volunteering their time to the Pony Club, junior sports (their kids are 13, 9 and 5), and Pat as president of Kyogle Rugby League Club. Plus the Kyogle Country Store sponsors 40 organisations in the area from sporting clubs to schools and charities.
While for many, running one of the biggest stores in town might be enough, Pat and Kelli also bought general transport company Dempsey Transport, as well as a family farm when they moved back to Kyogle two years ago. All three operations work well together, Pat says.
"It's powerful having your own freight company – you can collect stock and help a customer really quickly when you've got your own truck," he says. "And we grow hay on the farm to sell through our shop, and also use the farm for demonstration days."
There's little time for rest in this seven-day a week business. "It's pretty simple and old-fashioned – you've just got to roll your sleeves up and get into it," Pat says.
All business success aside, Pat says it's good to be back home in Kyogle.
"It's a way of life we want for our kids."