Townsend taproom breakthrough brews
When Sanctus Brewing Co. began life in 2019, there was no indication that the brewery would go on to enjoy the immense success it has over the last three years. For one thing, the brewery was based in the small town of Townsend, near Maclean – a beautiful spot, but hardly a regional centre. Then there was the fact that the business was entering an increasingly crowded and competitive craft beer marketplace – not to mention the Covid-19 pandemic that was just around the corner. 
But things have turned out more than okay for founders and owners, Nicole and Trent O'Connor. 
"We opened our doors in 2019 as a new, independent craft beer manufacturer, an unknown brand and with zero wholesale customers," says brand ambassador Kim Geritz. "Now, Sanctus is a recognised brand with award-winning beers, and our products are distributed to bottle shops across New South Wales, Queensland and Victoria, and recently in Dan Murphy's and BWS."
Sanctus's headquarters is a converted bus depot in Townsend, transformed into a 15-hectolitre brewery and taphouse, producing a range of ales, lagers, stouts, sours and more. Also on-site is a still producing rum, vodka and gin. What's more, the brewery has become a tourist attraction in itself, welcoming 50,000 visitors in the past year alone (despite being only open Thursday to Sunday). 
"Although our beers can be enjoyed from the comfort of your own home, Sanctus's biggest draw is being able to experience the beer where it is brewed, in the industrial, but chic, taproom."
While the pandemic did lead to uncertainty and disruption for the business, that has not stopped the accolades and milestones coming thick and fast. In February 2021, Sanctus was selected to host John Barilaro, then deputy premier of New South Wales, to present the state government's 20-Year Economic Vision for Regional NSW. In June 2022, Sanctus received a grant of $540,000, as part of the Regional Job Creation fund, which will go towards brewery upgrades. Sanctus will create 27 new full-time positions over the next three years as a result of the grant (the business currently employs 23 staff, along with many local contractors). 
And what about the beers themselves? It's safe to say that the nation's increasingly sophisticated beer drinkers have taken to Sanctus with gusto. Products have been recognised by the Australian Independent Beer Awards, while it is a relatively new kid on the craft beer block that has proven especially popular lately.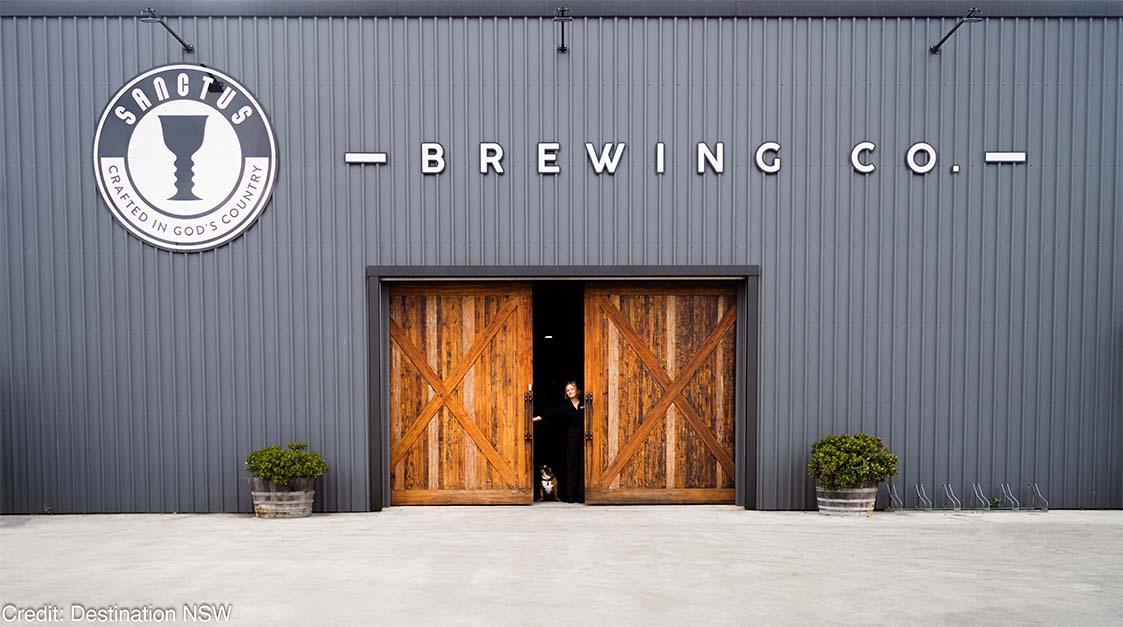 "Sanctus Ginger Beer is becoming one of our biggest sellers – both in our taphouse and wholesale," says Kim. Sanctus's small-batch gin release, Blood Lime Gin, is also a hit, recently crowned Best in Class in the Contemporary Gin category by the Australian Gin Distillers Association (from more than 540 entrants). Another popular gin is the Finger Lime Gin, made with gulalung (to use the Bundjalung term) finger limes, native to the Northern Rivers. 
Sanctus's links to the local community in the Clarence Valley extend to sponsorship of the Lower Clarence Magpies rugby league team, as well as supporting local charities. And that support is reciprocal. 
"The key to our success has been the local support," says Kim. "The crew at Sanctus call them 'local legends' – the core group that have been there since day one, the customers that have always been so quick to support all that Sanctus has to offer. No matter what obstacles the crew are faced with, they are simply always there."
And the future is bright, promising further innovation and growth. 
"To sell more beer, we need to make more beer!" says Kim. "Early in 2021 we expanded our premises to include a large warehouse and additional cool room, from which stock is turned over regularly. But since then our production schedule has ramped up, and you guessed it, we still need more space.
"We're now in the process of upgrading our entire brew house, canning line, warehouse, cool room and more to ramp up production to keep up with the demand for Sanctus Brewing Co. products across Australia."
"To sell more beer, we need to make more beer!"