19oct5:30 pm8:30 pmLEADERSHIP THROUGH LOCAL KNOWLEDGEBYRON BAY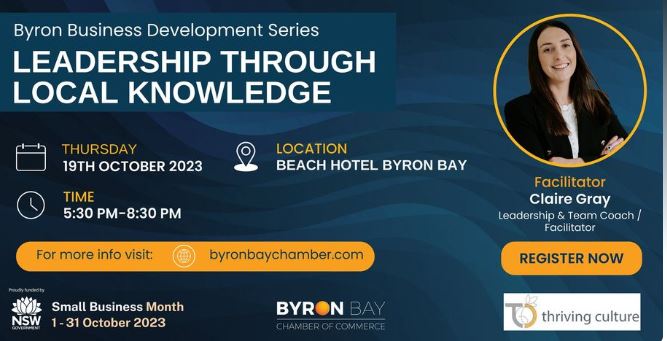 Event Details

Byron Bay Small Business Month Event

Join us at our upcoming event Leadership Through Local Knowledge, as we embark on a mission to address the adaptive challenges that businesses in our region are currently encountering in this ever-changing economic climate. Together, we will delve into the intricacies of these challenges and work towards crafting a comprehensive roadmap for long-term, sustainable growth in our regional economy. It's an opportunity for collaboration, innovation, and progress. Let's shape the future of our business landscape together

Objectives:

Understand and address the adaptive challenges faced by businesses in the region due to the changing economic climate.
Collaboratively build a roadmap for long-term, sustainable growth for our regional economy.

Please Select Your RoundTable Stream for the Insight Series :
Sustainable tourism – Visitor economy/travel
Start-ups Scaling & Product Development
Risk Management (Matt and Yasmin)
Digital strategy – customer acquisition
People – labour shortages
Supply chain optimisation
Immersive Technology & AI
Global Exports & Supply Chain Optimisation

This event is the starting point to create a network and working groups arising organically from these workshops. We'd love these groups/committees continue to meet monthly to develop adaptive strategies, helping businesses to navigate changing economic conditions and unlock future growth.

When: Thursday, 19th September

Time: 5.30pm – 8.30pm

Venue: The Beach Hotel (THE SHACK SPACE)

*A free drink and canapes platter included in tickets

SPONSOR BY NSW SMALL BUSINESS
NSW Small Business Month 2023 is coming this October to Byron Bay Chambers of Commerce in our Local Business Community, we will be coming together to provide learning and skill development opportunities for small businesses.

With this great range of topics, there is sure to be an event that matches up to your individual business needs. Events are available virtually and face to face across New South Wales. Check out 

www.smallbusinessmonth.nsw.gov.

.. to find the event for you!

To book click on the Learn More link below.
Time

(Thursday) 5:30 pm - 8:30 pm
Organizer
Byron Bay Chamber of Commerce